Yes, you read that headline right: "Stan" is now an official phrase in the Oxford Dictionary, and we can thank Eminem for that!

As you may recall, the rapper released the song "Stan" in 2000, based upon an obsessed fan who ended up taking his life because Eminem wouldn't respond to him.

But despite the depressing message associated with the song, the phrase has continued to get bigger and bigger over the years with a more positive association. Today, it's used by fanbases to depict people who are extremely dedicated to their beloved musician or celebrity.
In fact, the word has apparently been used so much now that Oxford Dictionary felt it appropriate to add "Stan" to its seemingly never-ending database of words.

According to Oxford, "Stan" can be both a noun and a verb: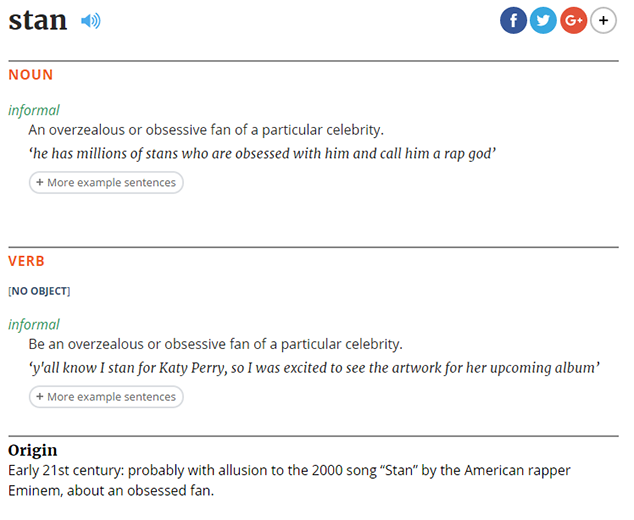 en.oxforddictionaries.com
As a noun, it describes an "overzealous or obsessive fan of a particular celebrity," while as a verb it means to "be an overzealous or obsessive fan of a particular celebrity."

And the best part? Oxford credits Eminem as the origin.

"Early 21st century: probably with allusion to the 2000 song 'Stan' by the American rapper, Eminem, about an obsessed fan."
Praise be, Dictionary Gods
Courtesy: E!news
Please follow and like us: